WE HAVE A GENUINE HOUSING SHORTAGE IN THE US
In a "normal" housing market, we need to build approx. 1.5 million new housing units per year in the US in order to replace obsolete housing units and account for normal population growth. This chart tells an interesting story: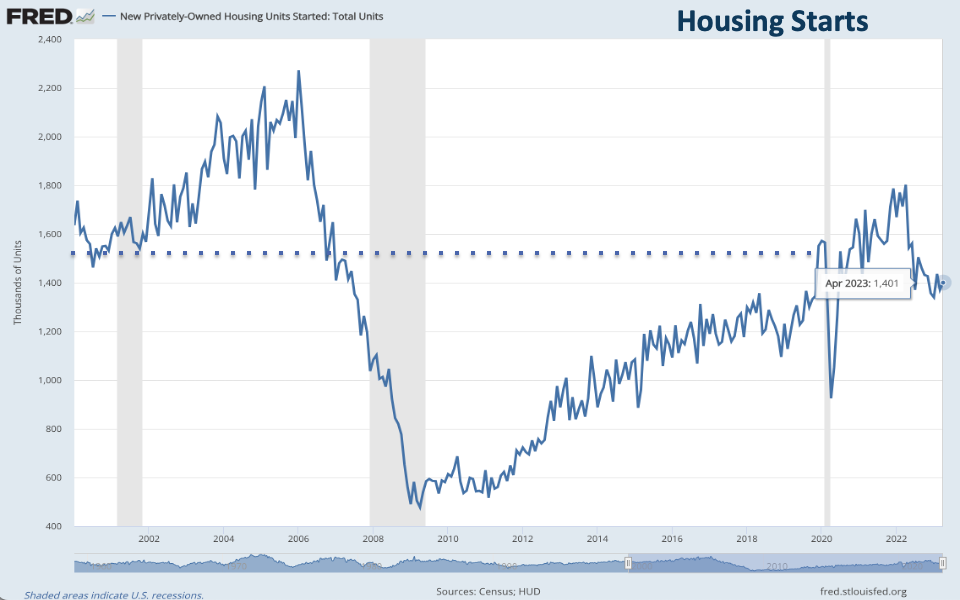 In the years leading up to the housing bubble/crash of 2007-2009, we were building 2.2 million housing units per year. In those years, we were over-building.
When the housing bubble burst, we only built approx. 500,000 new units per year. In those years, we were absorbing the oversupply of new homes.
For the past decade, we built approx. 1 million new units per year, approx. 500,000 units per year less than the long-term average of 1.5 million units. That's because the millennial generation of homebuyers took longer to buy their first homes than all the previous generations.
In the past few years, we started getting back to normal, building approx. 1.5 million units per year. That's because the millennial generation started buying their first homes.
Currently, we're building less than 1.5 million units per year.
The interesting thing about this chart is that it illustrates how the current pace of home building is simply not enough to meet the current demand. That's because we've been under-building for over a decade! We simply don't have enough homes available to meet the growing demand. That is why we have a housing shortage in our country.
WHAT DOES THIS MEAN FOR YOUR HOME-BUYING DECISION?
If you're thinking of waiting to buy a home until the housing supply increases, you may want to think twice! It seems unlikely that housing inventory will improve significantly in the coming year. In fact, it may take several years for the housing supply to increase enough to meet demand. Contact me for more info or to evaluate your options!
Ready to get started?  We're here to help!
Tim Erickson
P: (652) 451-2273
E: tim.erickson@goluminate.com
W: www.TimEricksonMortgage.com
Mark Henderson
P: (651) 398-3477
E: mark.henderson@goluminate.com
W: www.MarkHendersonMortgage.com